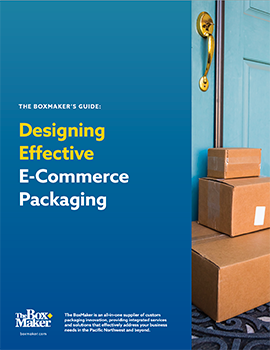 THE STATE OF E-COMMERCE TODAY

The Rise of Online Shopping
The rise of the Internet has not only changed the way we connect and interact with one another, but it has also revolutionized our shopping habits. An estimated 96 percent of Americans shop online for the ease and convenience of not having to leave their house. With the explosive growth of e-commerce, the demand for high quality branded packaging has followed suit. For brands who sell online, packaging is the physical link between you and the consumer.
Your packaging protects your product in transit, but it is also the first thing your customer sees when they receive their order. Packaging that fails to impress or doesn't adequately represent your brand (or protect your product) can result in a poor perception of your business, even if consumers enjoy the product.
E-Commerce in the Era of COVID-19 and Beyond
The Coronavirus pandemic has motivated consumers more than ever to stay at home and shop online. By April of 2020, year-over-year growth of US and Canadian e-commerce orders had grown by 129%. This increase in demand for online shopping has created an ideal environment for brands to test, launch, and refine not only their mobile and desktop shopping experiences, but all of the touchpoints along their customer journey, including e-commerce packaging.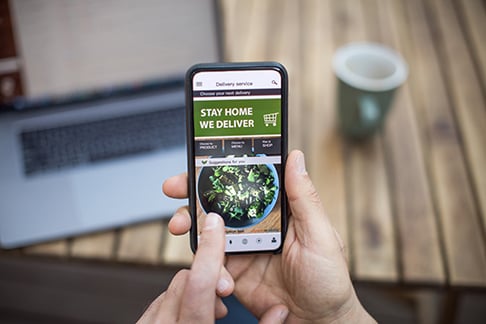 Increased e-commerce purchases aren't just limited to the B2C market. According to Corevist, "The COVID-19 pandemic has rewritten procurement processes in every industry that purchases physical goods. With both sales reps and their customers working from home, manufacturers are striving to establish greater trust, transparency, and availability in their branded commerce experiences—all while facing a competitive threat (or opportunity) from marketplaces like Amazon."
What trends created by the virus will last beyond the pandemic? Experts predict that the brick-and-mortar free fall will endure as major retailers continue to close their physical locations en masse and shift their focus towards online revenue.
Many of the packaging trends that we saw prior to the outbreak of COVID-19 will continue to be valued long after we find our way to a new normal. Recyclability, frustration-free design, and an immersive brand experience will all still matter in a post-pandemic world.
Three Key E-Commerce Packaging Trends
Sustainability and Recyclability
Consumers care about where their packaging comes from and where it ends up when they're done with it. Millennials and Gen Z are highly motivated to conspicuously consume products that are marketed as environmentally friendly.

In the fall of 2020, Amazon launched Climate Pledge Friendly, an environmental program aimed at helping consumers make climate-conscious purchases by labeling products sold on their platform that have met one or more of 19 different sustainability certifications. As the leading e-commerce sales company in the United States, the adoption of this program indicates that consumers will continue to place great importance on sustainable products and packaging.
Frustration-Free Design
Providing a simple and straightforward packaging experience delights your consumers. It can also simplify your packaging process. Frustration-free packaging (FFP) is right sized, reduces damages, is made of recyclable packaging materials, and is easier to open. Championed by Amazon, FFP has been part of the company's model since 2008 and the concept has been adopted by many other major e-commerce retailers since, including Walmart.com. Fueling the consumer's need for convenience, frustration-free packaging means designing for e-commerce from the ground up rather than retrofitting your existing product packaging for a direct-to-consumer shipment model.
Eliminating excess components and reducing void in your packaging design lessens the number of steps buyers have to take to remove their purchase from the box. It also delivers savings to your bottom line by using less packaging materials.
Immersive Brand Experiences
E-commerce purchases allow brands to engage with customers on a deeper level by collecting valuable customer data, including personal information, purchase history, and preferences. These data points can then be leveraged to create future personalized offers, marketing communications, and physical touchpoints (including packaging).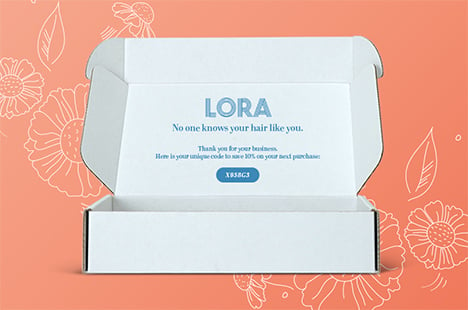 Why not send your customer their goods in a box that greets them by name? Or better yet, print a customized coupon code and advertisement inside the box based on purchase history to cross-promote a product directly related to what that customer has just received.
One-to-one mass communications are no longer limited to email and direct mail formats. Today, packaging manufacturers who supply digitally printed boxes can help brands deliver a customized experience to every customer, with very little additional production effort.
DELIVERING AN EXPERIENCE
Choosing the Right Type of Packaging
E-commerce purchases are typically shipped in one of three common packaging styles: poly mailers, bubble mailers, and corrugated boxes. Which style you choose will depend on the size, shape, and durability of your product, as well as your packaging budget and desired end-user experience.
Poly Mailers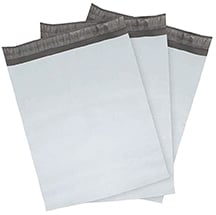 Poly mailers are self-sealing polyethylene envelopes ideal for lightweight and flexible products. A favorite of the clothing industry, poly mailers are weatherproof, lightweight, and easy to send. Some mailers feature a 2nd tape strip to make product returns easier for the end user.
Poly mailers are commonly available in set dimensions and are only available to be ordered in custom sizes in great quantities. Additionally, it is challenging to cost-effectively customize the print on poly mailers. While mailers can be purchased in a variety of colors and patterns from many sources, adding your company logo or brand colors to a poly mailer will most likely require a high minimum order volume or significant cost per unit.
Poly mailers are not typically curbside recyclable. However, some companies are beginning to manufacture compostable mailers and mailers made from 100% recycled materials in an attempt to provide more eco-friendly options for their customers.
Bubble Mailers

Add a layer of protective air bubble packing to the interior of a self-sealing envelope and you get a bubble mailer. Bubble mailers feature an exterior liner of poly or paper and are completely lined on the inside with bubble wrapping. These mailers offer significantly more product protection than plain poly mailers and can be used for shipping lightweight delicate items that benefit from a bit of structure, such as jewelry, books, and small electronics.
Poly bubble mailers offer the same weather-resistance and print options of their non-bubble counterparts. Paper bubble mailers are vulnerable to rain and moisture and are less commonly available for custom print. Both variations come in standard sizes.
Bubble mailers are not curbside recyclable as bubble wrapping is typically made with #4 low-density polyethylene film. Bubble mailers can be recycled at drop-off locations that accept plastic bags, but many end up in landfill.
Corrugated Boxes
Corrugated boxes come in a variety of styles and can be completely customized from the ground-up for size, product protection, print, and user experience. Corrugated containers can be designed to effectively ship just about any product in any volume.

Corrugated is a sustainable packaging material. It is the most recovered packaging material in use today. According to Corrugated.org, 93% is recovered and recycled to make new boxes and other paper products. Many corrugated boxes are made in part from post-consumer recycled content. Corrugated boxes are reusable and typically curbside recyclable (unless they have been embellished with foil), making them easy for consumers to properly dispose of.
Corrugated packaging offers the most choice when it comes to designing the consumer experience. Corrugated packaging can be easily custom printed inside and out, and designed to open in a variety of ways to deliver the best experience to your end-user.
Let's take a closer look at some of the unique considerations that apply to corrugated e-commerce packaging.
E-Commerce Corrugated Box Styles
Choosing an appropriate box style is the first step in designing successful e-commerce packaging. The box serves two purposes: it must protect your product during shipping, and it provides a physical representation of your brand. Many box styles are used in e-commerce, from the common RSC shipper (a traditional brown box) to the popular roll-end-front-tuck mailer with dust flaps.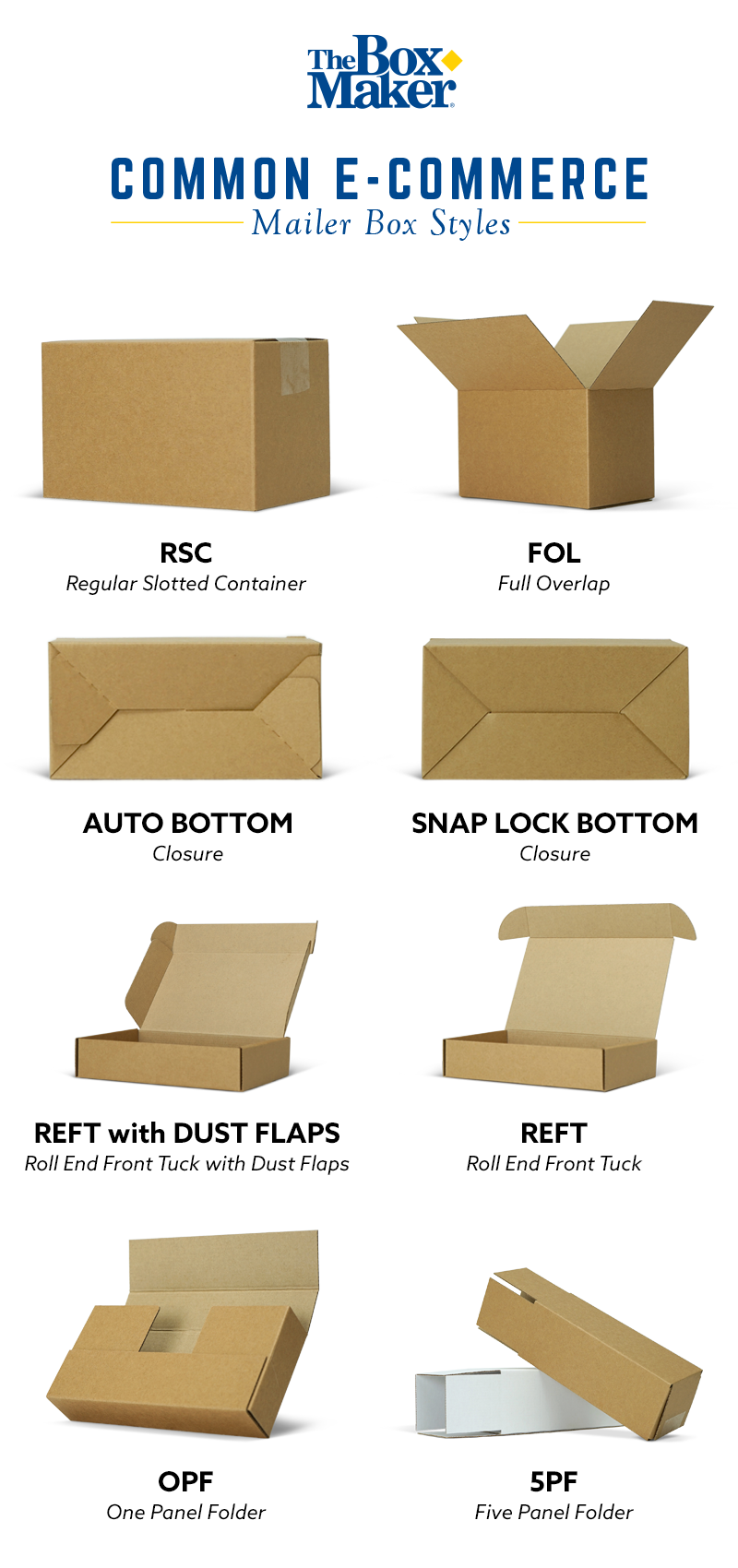 Determining which box style is best depends on your product, how you pack it, the level of protection it needs, and how your customer prefers to receive it. Some box styles also use less material than others, which can reduce your packaging costs.
Here are some of the features you might consider including in your box to help you maximize efficiency, control cost, or deliver an experience.
Traditional vs. Full Overlap (FOL) Flaps
Traditional RSC shipper boxes are designed with four flaps on the top and bottom of the box. All flaps have the same length, and the two outer flaps meet at the center of the box, ready to be sealed with tape. This is the #1 most common box style in the world and it is suitable for many products.

For heavy or breakable products such as restaurant glassware, added protection can be built into the box design with the inclusion of full overlap (FOL) flaps. FOL flaps extend all the way to the opposite side of the box when folded, completely overlapping each other. This adds stacking and structural strength to the box, making it ideal for storing or shipping heavy items. Boxes with FOL flaps are durable and damage-resistant during the fulfillment and shipping process.
Snap-Lock vs. Auto-Bottom Closure
Boxes do not need to rely on tape to be sealed at the bottom. Packing tape, while appropriate for many carton sealing scenarios, can fail when applied ineffectively or when put under too great of stress from product weight inside the box. Additionally, sealing the bottom of your boxes with tape requires extra time and labor during assembly and pack-out.

By building the bottom box closure into the packaging design itself, corrugated boxes can be quickly erected in an assembly line and provide a more reliable closure for heavy products. Two common closure styles are available: snap-lock and auto-bottom.
Snap-lock closures utilize specially shaped bottom flaps to create a secure lock when the box is erected. Although this style must be manually assembled, it can save money over time by reducing the need for tape or glue. Snap-lock bottom boxes are perfect for bulky yet lightweight products such as baked goods, apparel, and textiles.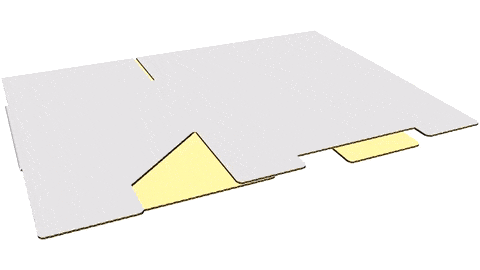 Auto-bottom boxes leverage interlocking bottom flaps that automatically fold together when erected. This style streamlines your assembly line and saves money over time on labor costs.
Both snap-lock and auto-bottom designs can be integrated into many different box styles, including RSCs and tuck-top boxes, both popular choices for e-commerce.
Roll-End Front Tuck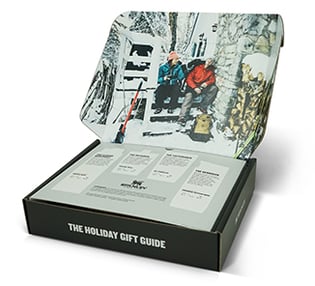 The roll-end front tuck box delivers an excellent unboxing experience and product protection. Popular with specialty foods, beauty brands, and subscription box services, this style is a popular choice for e-commerce shipping.
Roll-end front tuck boxes are available with or without dust flaps. For boxes that will travel through the distribution and shipping network, dust flaps are typically recommended. These additional flaps that tuck into the sides of your box as you close it help to keep dirt, grime, and dust from reaching your product during its journey to the end user, your customer.
Self-Sealing Mailer Boxes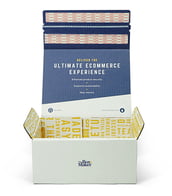 The corrugated version of poly mailers, self-sealing mailer boxes include their own built-in tape strip on the front flap and are easily packed, sealed, and ready to ship, making for an easy e-commerce fulfillment experience. A perforated tear strip is integrated into the box above the tape strip to allow for easy opening by the end user. A 2nd tape strip can be added above this to create a return-ready box that delivers the ultimate customer experience.
Right-Sized Packaging
Depending on the box style you choose, you may have a choice between stock sizes or custom manufactured boxes. Stock boxes are purchased in bulk and are typically less expensive, but they aren't perfectly sized to your product. Most likely you will need to "size up" in order to ensure a fit, potentially increasing your shipping and material costs.
When it comes to packaging, one size doesn't fit all. Today's consumers are more conscious of packaging waste than ever before, driving major retail and e-commerce brands towards using right-sized boxes for packaging and shipping purposes. So, what does it mean to right-size a box, and why does it matter?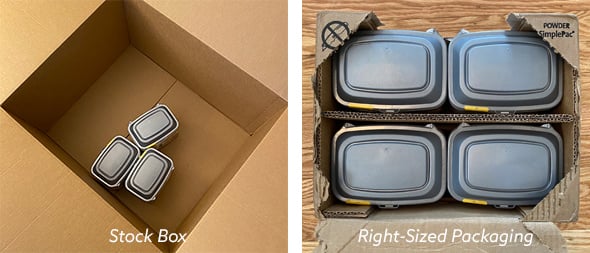 A right-sized box refers to custom packaging that properly fits a product's size and shape, minimizing the need for extra void fill materials, such as foam and bubble wrap. Using right-sized boxes can lower freight costs and enhance product protection while improving your bottom line. By reducing the amount of material used, this also supports sustainable packaging and shipping practices.
Right-sized packaging makes an excellent impression on the consumer as it has the best chance of presenting your product well. No one wants to open a gigantic box to find a tiny product inside. Situations like this can flair up consumer backlash on social media, potentially hurting your brand's reputation and future sales.
Your packaging manufacturer should have a team of structural designers who can help develop perfectly sized packaging for your product
Leveraging Print
Print Technologies
When it comes to e-commerce packaging, it's not only what graphics you put on your box, but how those graphics are printed that make a big impact on the customer's experience. Corrugated boxes are typically printed using either conventional methods such as flexography ("flexo") or litho lamination ("litho lam"). However, a growing sector of the manufacturing trade is now providing digitally printed boxes. Let's explore the benefits and drawbacks of each.
Conventional print methods use printing plates to transfer ink onto the box surface. Both flexo and litho lam require a separate print plate for each color printed. Flexo printed boxes are often 1-3 colors, but litho lam typically includes 4-6 and is better suited for more complex imagery (such as photos). Both methods are designed (and best used) to produce a high volume of identical boxes. Due to the necessary manufacturing materials and machinery setup time, conventional print methods require a high minimum volume order. This can place a significant financial burden on a growing e-commerce venture.

In contrast, digital print works similarly to a large-scale desktop printer. No print plates are required to transfer the image. Ink jets apply the ink directly onto the substrate. Digital production has many advantages, including full CMYK color printing, shorter turnaround times, variable artwork capabilities, and low minimum order volumes. Complex images, gradients, and photo renderings perform very well with digital print. Digital print production gives brands the flexibility to order what they want, when they want, and how they want.
Choosing between conventional print methods and digital print depends on the needs of the job. If a brand needs 100,000 units of packaging that are all identical, litho lam or flexo may be the more competitive choice based on value. These methods were made for high-volume mass production with no print variance throughout the run. Unfortunately, they frequently require significant lead time.

However, if a brand is short on time, desires any level of variable graphics throughout their print run, or has specific volume requirements, digital print is a great solution. This rapidly evolving technology delivers unmatched print flexibility and empowers brands to react quickly in today's ever-changing marketplace.
Outside Print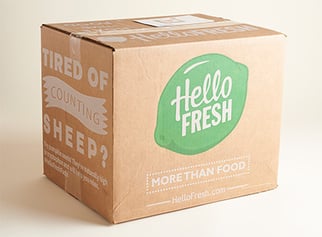 Keep in mind the rough and tumble world of shipping logistics when designing the outer graphics of your box. A mostly white or light-colored box may leave your facility in pristine condition but arrive on your customer's doorstep scuffed and dirty. Kraft boxes or white boxes mostly covered in bold graphics are better able to camouflage the bumps and bruises they may receive during the shipping process, making a better first impression upon arrival.
Inside Print
Printing on the inside of your e-commerce packaging is one of the strongest marketing tools you have to connect your brand with your customer base.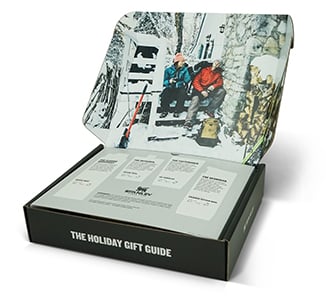 Why is inside print becoming so popular? Exterior box graphics are mostly designed around logistics. After leaving room for a shipping label and being obscured in packing tape, there may not be much room left for an immersive brand experience. Customers quickly open packages when they receive them. Your outside print has mere seconds to connect in a lasting way, and it's associated with the obstacle standing between your customer and their purchase – your packaging.
Inside print functions much more as part of the product experience once your package is opened. Along with your product, the inside of your packaging is the real first-impression opportunity your brand has to engage your audience visually with colorful graphics, messaging, loyalty rewards, promotional advertising, and overall appeal. You can guarantee each customer that opens your box is captive to your inside print marketing. Can you say that about your email marketing campaign? How about your pay-per-click advertising? There isn't another arrow in your marketing quiver that can promise as high a visibility rate as printing inside and outside the box.
Personalized and Cross-Promotional Messaging
Personalized packaging, sometimes referred to as bespoke packaging, is custom printed for the individual consumer. Typically, packaging is personalized with someone's name, picture, or a unique characteristic (such as a specific pattern or graphic).
Brands can easily add personalization to their standard product offerings with custom printed packaging. By inviting consumers to add their name, upload a photo, or embellish their pack with a custom message during the checkout process, CPGs and retailers are able to create individualized experiences for mass-produced products.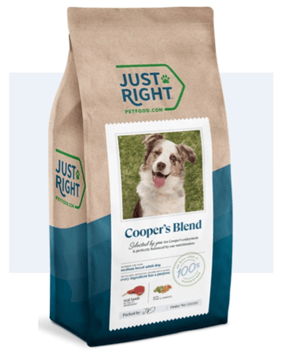 Studies show that it pays to personalize. According to Deloitte, 1 in 5 consumers who express an interest in personalization are willing to spend 20% more. This makes sense, as products in personalized packaging are frequently given as gifts or keepsake items.
Personalized packaging can be an excellent marketing tool for up-and-coming brands looking to make an impact with their customers. According to E-Commerce Packaging Survey, 40% of consumers are more likely to share a photo of distinct product packaging on social media. This earned media can go a long way to boost brand awareness and exposure.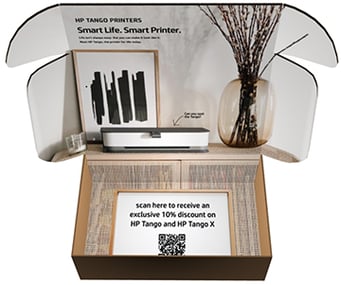 Cross-promotional messaging is another great tool that brands can easily integrate into their packaging by leveraging digital print. E-commerce brands have an uninterrupted, direct line of communication with their consumers through packaging. But magic doesn't happen on the outside of the box — it's what's on the inside that counts.
By taking advantage of the valuable space inside of the box and keeping the outside design minimal, brands can incorporate exclusive messaging that only their consumers can see. It gives them the opportunity to create a unique and unexpected unboxing experience that customers are more likely to remember or take a direct action from because it can be more personalized to the consumer.
Paper or Plastic? Void Fill Material Options
Replacing a damaged product can cost an e-commerce business up to 17 times more than the original cost of shipping it. Ensuring your product arrives safely in the hands of your end-user is the number one job of your packaging. In addition to the outer box, the interior void fill that you select has a significant impact on providing adequate protection for each shipment.
Void Fill
Void fill is the collective name given to the family of materials used to fill any empty space between the walls of your shipping box and its contents, preventing your product from moving around too much on its journey from warehouse to customer.
For e-commerce packaging, void areas should be minimized in the packaging design. Right-sizing your packaging ensures your product is protected while shipping costs are minimized. Typically, even the most efficient packaging designs will require some type of void fill or blocking and bracing solution to keep your products safe and your customers happy.
There are many material choices when it comes to void fill. Similar to choosing the right style of exterior packaging for your product, choosing the right void fill depends on your product, pack-out strategy, and the experience you want to deliver to your end user.
Air Pillows
Air pillows are a common one-solution-fits-most void fill choice for companies sending a high volume of brown box shipments or shipping multiple size combinations of boxes and products, such as Amazon. The pillows can be purchased pre-filled with air, blown up manually, or most commonly are filled with air as they are packed by specialty equipment.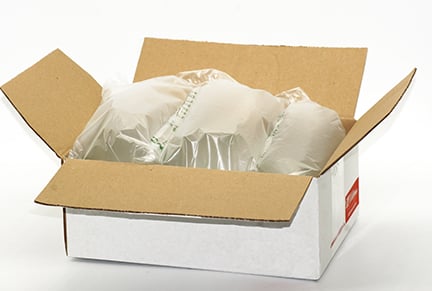 Air pillows are fast and simple and provide a decent amount of cushion. However, they don't provide a great end-user experience as they must be punctured and disposed of. Because they are made with plastic film, air pillows are typically not curbside recyclable and most often must be dropped off at a collection facility to be recycled.
Biodegradable Packing Peanuts
Traditional packing peanuts are polystyrene-based and have become a pariah to many consumers as they are not eco-friendly and can be a nuisance to dispose of. Biodegradable packing peanuts made from non toxic materials like wheat and cornstarch are quickly being adopted where this type of void fill is still in use. These peanuts can be dissolved in tap water and safely composted. However, many consumers may not be aware of this.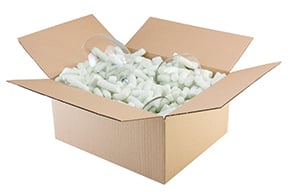 Regardless of the type of peanut used, consider the customer experience when it comes to this protective product. Packing peanuts can be a challenge for your end user to dispose of because they are small, lightweight, and difficult to corral into the proper disposal bin.
Bubble Wrapping
Bubble wrapping can be purchased in sheets, rolls, or in pouch form and comes in a variety of bubble sizes, film thickness, and bubble styles. Some manufacturers offer bubble wrapping made with recycled materials.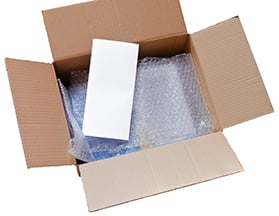 Similar to air pillows, bubble wrapping is an easy way to add an effective amount of cushion to protect your product in transit. As its name suggests, bubble can be wrapped more effectively around your product and affixed with tape to hold it in place during shipping. Bubble-wrapped products can also be stacked and handled more easily during the product fulfillment process without risking significant damage from directly handling fragile products such as electronics or glass.
Packing Paper and Crinkle Paper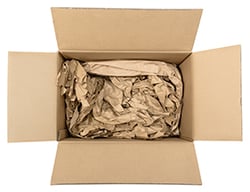 Kraft packing paper is a very common void fill choice used by companies fulfilling large volumes of orders in stock shipping boxes. This is sustainable void fill solution that can work for a variety of products. The packing paper comes in a roll that is loaded onto an automated feeder which is activated by the pack-out employee with a foot pedal or button. The machine dispenses the paper, lightly crushing it as it is ejected, making it easy for the worker to quickly compress it into the shipping box around the product. Packing paper is 100% recyclable and can be easily disposed of by the end user. Unfortunately, it doesn't offer the consumer much in the way of an experience when unboxing their order.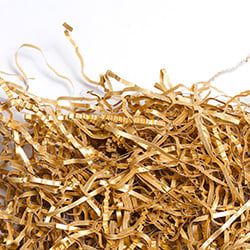 Crinkle paper is a fun void fill option that comes in brown kraft as well as a variety of colors and color combinations. Crinkle paper offers companies a relatively inexpensive way to jazz up their unboxing experience while protecting their product, and by adding a pop of color they can create an on-brand impression. Because crinkle paper is composed of many small strips of paper, it is not a recommended void fill for heavy or easily breakable objects as it is not strong enough to hold them in place during transit. Rather, crinkle paper shines when shipping small, lightweight items that just need a bit of extra padding, or for pure product presentation.
Inspyre Tissue Paper™ by Pregis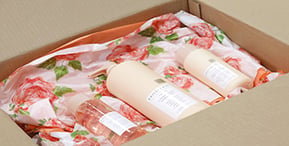 Match your in-store customer experience or build your brand with Inspyre paper. This colorful, brand-focused and sustainable void fill packaging helps connect with ecommerce customers like never before. Designed for use with Pregis' Easypack Quantum™ on-demand, void-fill system, Inspyre paper is available in 10- and 20-inch wide paper bundles and comes in a wide variety of stock colors. Custom artwork is also available for specific branding and designs. Further, consumers can keep the colorful paper for downstream use or recycle in their local municipality's paper recycling stream.
Custom Corrugated Inserts
If delivering a memorable customer experience is central to your business model (and it really should be for most e-commerce companies), consider utilizing a custom corrugated insert in your packaging rather than using void fill at all.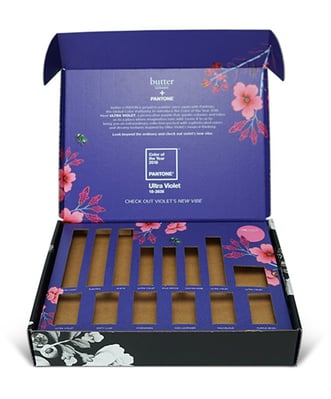 Custom corrugated inserts are designed around your product, holding it in place and protecting it from impact during the shipping process. Upon arrival and unboxing, your product is revealed to the consumer perfectly in place and safely intact. Corrugated inserts can also be printed to match your brand packaging, add additional text and product information, or to add a personalized touch to every order.
Frequently when e-commerce brands are just getting started, investing in a completely custom packaging solution seems costly and out of reach. However, when evaluating packaging costs it is important to remember that traditional void fill solutions are often over-used or used incorrectly by employees, which can drive up your costs significantly in material use and damaged product returns. Many are also not recyclable and don't provide a great end-user experience. Custom packaging inserts in conjunction with right-sized custom shipper boxes can save money in the long-run by reducing damaged product, eliminating waste from over-use, and earning repeat sales by providing a memorable experience.
It is worth noting that custom inserts are a good fit for brands offering a standard product set, not distributors who ship a wide variety of items in unpredictable volumes.
Putting It All Together: Packing Tape and Box Seals
Once you've determined your box style and void fill and your product is safely packaged up, all that's left to do is seal each shipment and send it on its way. E-commerce shipping boxes are most commonly sealed with packing tape, box seals, or custom labels. Depending on your budget and desired customer impression, one of these options may be a better fit for you.
Packing Tape
Packaging tape comes in many varieties and styles. When choosing a packing tape for carton sealing, it's not only important to consider the look of the tape but also the performance needs of your shipment. Some questions to answer when selecting a packaging tape would include:
What type of surface is the tape being applied to?
If tape is used to seal the bottom of the box, how heavy is your product?
How is the tape being applied (by hand or machine)?
Should the tape have pressure-sensitive adhesive or be water-activated?
What type of environment(s) will the tape need to perform in, including weather exposure and extreme temperatures?
Does the tape need to provide any additional security features for the pack?
How will the end user dispose of the tape and is sustainability a factor?
Based on your answers to these questions, you will arrive at a narrowed selection of tape styles and materials to choose from. Based on this revised library of choices, you can then think about adding branding or custom messaging to your tape to enhance the customer experience.
Box Seals
Box seals are essentially pre-cut labels or stickers that are ready to be peeled off a role and added to your box. Not only can box seals be a great time-saver for e-commerce brands that hand seal every shipment, but they also add a professional look to the finished product. Additionally, these ready-to-use seals help your employees avoid supply overuse.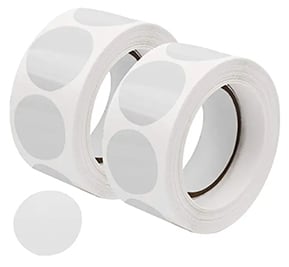 Box seals (also called box stickers or mailing labels) are commonly purchased in bulk in clear acetate, white, and kraft, and come in circular, square, and rectangular shapes.
Custom Labels
A custom label can be used to effectively seal your e-commerce box while adding a 100% customizable branded element to each pack. By partnering with a custom label manufacturer such as The BoxMaker, you can develop a label that is perfectly sized and suited to your needs.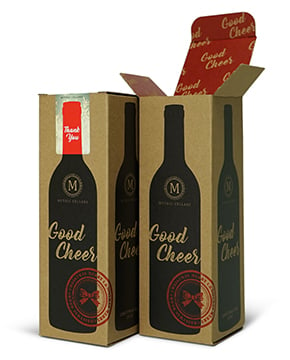 Custom labels provide the ultimate unboxing experience when it comes to e-commerce packaging, they can be made of recyclable materials, and compared with other sealing solutions they're more affordable than you think!
What Happens When It All Comes Back? Managing Product Returns with Packaging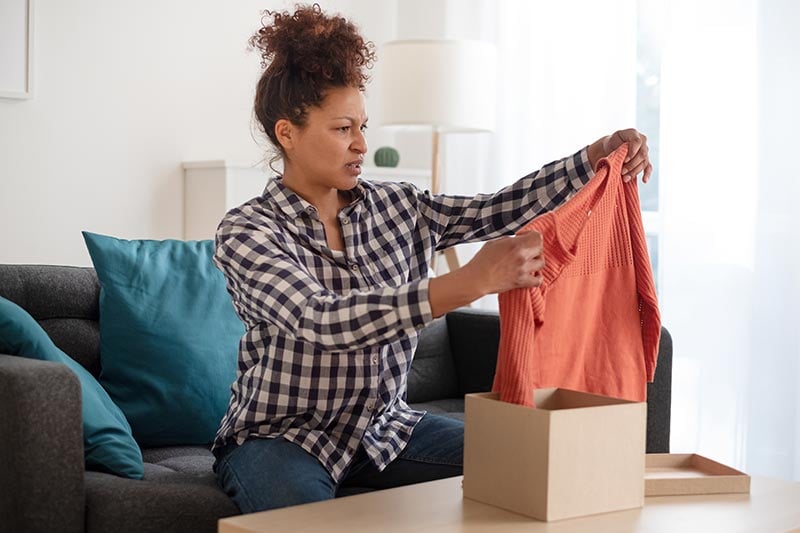 Ecommerce returns are an inevitable part of the business. According to a 2018 report from Narvar, 41% of online customers buy variations of a product with intent to return, and 42% of customers have returned an online purchase in the past 6 months. What does this tell us? Returns are inevitable, and frequent. However, Narvar states this is also an opportunity to drive loyalty as 96% of shoppers who had a good return experience would choose to shop with the e-retailer they bought from again.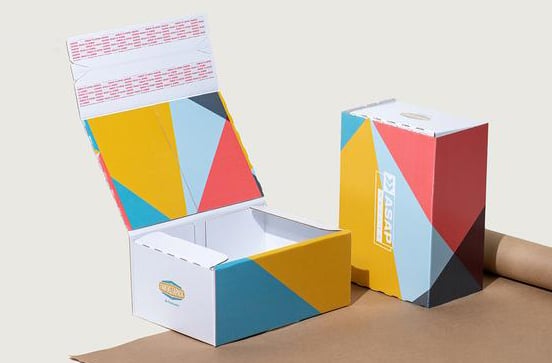 A lot goes into creating a hassle-free return experience for the customer, and packaging plays a key role. Consider making returns as easy as possible by choosing poly mailers or corrugated boxes with a built-in 2nd tape strip below the tear strip opening. This allows for your end-user to easily re-seal the box or bag and send their purchase back to you.
GETTING STARTED
The BoxMaker: An All-In-One Supplier
The BoxMaker is your all-in-one packaging supplier. As both a manufacturer and distributor, we are uniquely positioned to provide businesses of all sizes with a complete e-commerce packaging system.

Our Packaging Advisors and award-winning structural design team are ready to help make your vision a reality and deliver a memorable and effective e-commerce experience to your end users.
Fantastapack: On-Demand Custom Boxes and Labels
For brands who are just getting started, Fantastapack.com offers a wide variety of box styles and label solutions to fit your needs. All products can be ordered with very low minimum quantities (often as low as one!) and are digitally printed to deliver speed and fully customized packaging.