What is Digital Print?
Digital print is a direct printing process that operates similarly to a home or office printer, in a much larger format. The print-ready artwork file is electronically transferred from a computer directly to the press and then printed onto the desired substrate. Digital presses transfer four or more colors of ink (Cyan, Magenta, Yellow, and Black) simultaneously, producing full-spectrum prints without the use of print plates.
Digital print is available for a variety of packaging solutions, including but not limited to:
Corrugated Boxes
Retail and Point-of-Purchase Displays
Folding Cartons
Product Labels
Pouches and Flexible Packaging
Shrink Sleeves



This article focuses on digital print for corrugated packaging and labels. The primary technologies discussed are those offered by The BoxMaker's fleet of HP digital presses and may differ from the technologies used by other manufacturers.
How is Digital Print for Packaging Different?
The key difference between digital print and analog methods is that digital doesn't require the use of print plates to transfer the image onto the material surface. Flexography and litho lamination both need print plates to transfer the image onto the desired substrate manually. Complex images with many colors use multiple print plates, as each plate can only transfer one color of ink. Print plates not only add time and cost to the process but can also creatively limit the outcome. Free of these restrictions, digital delivers many advantages to packaging manufacturing, including speed, quantity control, print quality, and range.
Choosing between analog methods versus digital print depends on the needs of the job. If a brand is looking for packaging that features 100,000 identical impressions for a campaign set to launch in three months, litho lam or flexo may be the more competitive choice based on value. These methods were made for high-volume mass production with no print variance throughout the run. Unfortunately, they frequently require significant lead time.
However, if a brand is short on time, desires any level of variable graphics, or has specific volume requirements, digital print is a great solution. This rapidly evolving technology delivers unmatched print flexibility and empowers brands to react quickly in today's ever-changing marketplace.
The Benefits of Digitally Printed Packaging
Digital print frees brands to print what they want, when they want, and how they want. Here are the reasons brands should consider choosing digitally printed packaging:
Print What You Want
Volume Control
With digital print, the first impression to the last is identical in quality. Machine setup wastes no sheets of material. Thus, manufacturers leveraging digital print can offer significantly reduced order volumes to their clients compared to traditional print minimums. But that doesn't mean digital is limited to small quantity orders only. Advances in speed and quality mean manufacturing plants running the latest digital equipment can produce high-volume orders with ease.
Scalability: From Prototype to Mass Production
Historically, buyers recognized digital print as an excellent solution for low-volume short runs because of its print-on-demand nature. Think prototyping, limited editions, and seasonal marketing campaigns. However, advancements in speed, quality, and supporting software applications mean today's digital presses can support high-volume mass production campaigns just as well. At present, digital is set to grow with your brand, delivering consistent quality packaging from startup to enterprise.
Print When You Want
Reduced Lead Times
With the number of manual pre-press procedures significantly reduced, digital print offers shorter lead times compared to analog methods, meaning faster speed-to-market is possible. Reduced lead times allow brands to stay relevant to changing packaging trends in retail and eCommerce with more agility than competitors limited by the longer lead times of flexo and litho-lam.
Supply Chain Efficiency
Digital print technology allows brands to manage packaging needs throughout product life cycles more effectively. Without the need for print plates, digital is not held hostage by high minimum order volumes for each artwork version or revision needed over time. Free to print what they want and when they want, brands can control run volume, frequency, and graphic iterations with ease, optimizing alignment between their supply chain, marketing efforts, and sales results.
Print How You Want
Version Control
With the ability to print in exact quantities and manage variable graphics with ease, brands can produce multiple versions of their packaging for limited-run marketing campaigns without incurring additional setup costs. For example, digital print allows brands to incorporate co-branded packaging into their marketing strategies without any extra strain to their packaging budget.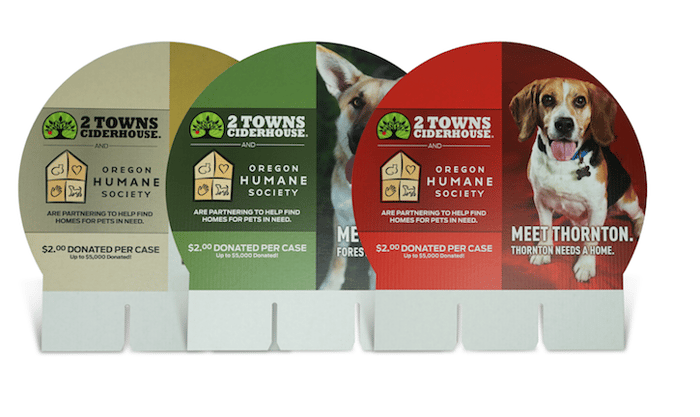 Quickly Respond to Packaging Trends
Digital print allows brands to move from mass production to mass customization and deliver a one-to-one experience to each consumer. How? With digital, every impression can be different. Exploring packaging trends that appeal to Millennials and Gen-Zers such as personalization, collectability, and extended content is simple with digital.
Security
Digital print supports seamless track-and-trace integration to enhance product security. The technologies developed by companies such as Digimarc allow your brand to measure and prevent loss, discourage theft, and improve quality control and product recall management — down to the individual unit.
Brands can also integrate digital watermarks into digitally printed packaging to increase consumer confidence. When scanned by retail locations or an individual consumer, digital watermarks assure that the product is indeed authentic or untampered.
Sustainability
Digitally printed packaging can improve a brand's sustainability profile in many ways. Print plates do not need to be manufactured, saving on waste. Additionally, the ability to replenish stock on-demand in exact order quantities minimizes packaging obsolescence, thus reducing the amount of packaging that is over-produced and ultimately thrown away.
Lastly, the latest digital presses use fewer toxic ink chemicals and are less harmful to the environment. For instance, the HP PageWide C500 press uses true water-based inks that are odorless, food-safe, and free of UV-reactive chemistries.
Why Choose Digital Print for Packaging?
With its low barrier to entry and across-the-board benefits for the brand, supply chain, and the end consumer, it's hard to imagine a retail product that can't benefit in some way from digital print. For brands seeking relevancy in a competitive marketplace, digital print may hold the key to achieving the next level of brand success.
Digital Print Quality & Color
Maintaining consistent color quality is critical for brand recognition and value. The final appearance of color in any printed application, including packaging, is influenced by several factors. Brands must work alongside their design team as well as their packaging manufacturer to ensure they reach the desired color outcome.
Analog print methods sometimes use spot colors, distinct pre-mixed colors created from a set formula (such as Pantone®), to achieve consistent brand color results like Coca-Cola® Red. However, the CMYK color model (Cyan, Magenta, Yellow, and Black) is preferred when printing realistic images, such as photos, or when blending colors to any degree. Digital print uses this model, which is capable of accurately reproducing most colors in the Pantone® library and also retains the flexibility to print complex images with ease. Many digital presses are outfitted with supplemental inks beyond CMYK to expand their color gamut and accuracy, typically orange and violet.
While CMYK printing produces high-quality results, there's a chance of color variation across different printers or jobs. One step that packaging manufacturers can take to help address variances between machines is to become G7 certified. G7 certification means that a manufacturing facility can produce consistent color within a minimal tolerance on their machinery. It offers brands peace of mind of knowing that their packaging color will be consistent with each order run.
Digital Print Inks
Corrugated Packaging: UV-Curable Inks
There are two common ink types used for corrugated packaging and display: UV-curable inks and water-based inks. Because the ink is applied directly to the substrate, digital print requires that the inks be cured or dried so that the pack does not come off the press wet. UV inks are immediately exposed to ultra-violet lights to dry. Brands should keep in mind that due to the chemicals involved in the curing process UV inks are not safe to be used on primary packaging applications (where the packaging has direct contact with food).
Corrugated Packaging: True Water-Based Inks
True water-based inks, like those featured on the HP PageWide C500 Press, are food-safe, non-toxic, and completely free of UV-reactive chemistries. These inks comply with stringent global food safety regulations including the FDA, EU Framework, Nestlé Guidance, and Swiss Ordinance, and are appropriate for use on primary packaging applications. These inks are fully repulpable and recyclable, potentially reducing the environmental impact of food packaging production.
Choosing between UV-curable and true water-based inks depends on many factors, including packaging application, substrate, and the press machinery used by the manufacturer. If a brand's product falls into a regulated category, such as food and beverage, beauty, or baby products, true water-based inks are the best option to help guarantee consumer safety.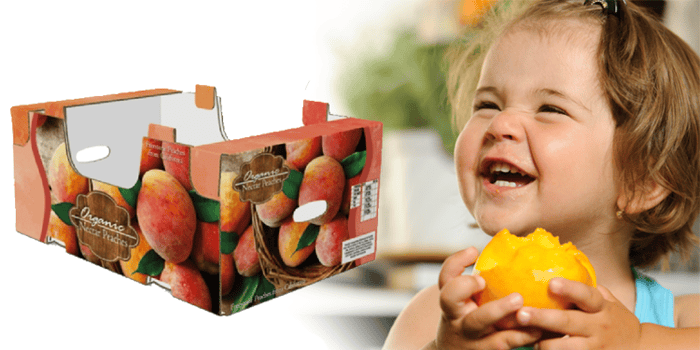 Labels and Folding Carton: HP ElectroInk
Digital web presses that are used to print on folding carton and label stocks operate slightly differently from the flatbed and PageWide presses used for corrugated media. HP Indigo presses utilize HP ElectroInk. These specially developed inks contain an electric charge. On press, this charge holds the ink to a blanket. As the blanket comes into contact with the material substrate moving through the press, the ink's charge is reversed, and the ink transfers to the print surface.
In addition to an extended CMYK color gamut that can match up to 97% of the Pantone® color range, innovative suppliers are increasing the types of specialty inks and substrates available for digitally printed labels, cartons, and flexible packaging. HP recently released a series of fluorescent inks for their Indigo press line, as well as ElectroInk Silver in 2018. These unique inks allow brands to achieve a world of special effects with digitally printed packaging.
Designing For Digitally Printed Packaging
Packaging designers have more creative freedom when designing for digital compared to analog methods. Now more than ever, they have the opportunity to produce innovative packaging that can spark conversation and deliver unique consumer experiences without breaking the bank.
Key features that designers can integrate into their designs for digital print include gradients, variable data, hyper-customization, and digital watermarking for security and extended consumer content.
Most designers opt for Adobe Creative Cloud products such as Illustrator, InDesign, and Photoshop to build their files. A wide variety of additional plug-ins and tools are available to expand the capabilities of these programs, including HP SmartStream D4D — a free Adobe software plug-in that allows designers to create packaging decoration driven by variable data content.
Before a packaging designer submits their artwork file for print, each element must be carefully reviewed to ensure it is print-ready. Here are a few tips to prepare your file for digital printing:
Check Your Images: Images are recommended to be a minimum of 300 dpi for best results. If using a copy of your logo or artwork from the web, it may only be 72 dpi (web resolution). This resolution is not high enough quality for print.
Convert Your Fonts: Converting your fonts to outlines ensures that the correct typeface will be included in your design.
Convert Colors to CMYK: Since digital printing uses the CMYK color model, your file must be converted to CMYK color mode.
Add Bleed Lines: If printing to the edge, extend your artwork beyond the dieline by ¼" to the bleed line of your file (which may or may not be visible).
Choose the Right File Type: For best results, submit native artwork files or PDF. If you choose to save your file as a PDF, it must be saved in high resolution. If you're using Adobe InDesign, Illustrator, or Photoshop, it's critical to supply all linked files and to preserve the dieline layer in your document.
Zip It Up: It's helpful to compress (ZIP) your artwork file so it can be easily uploaded or transferred.


Every packaging manufacturer will have a unique submission process, so it's essential to follow the necessary steps as outlined by the chosen provider. These tips reflect The BoxMaker's process and may not be the same for your print provider of choice.
Innovative Technologies: Connected Packaging
It's a common misstep for brands to think of packaging last when planning their overall product experience. In reality, packaging sets the stage for how consumers interact with the product. An estimated 72 percent of consumers agree that packaging influences their purchase decisions when selecting which products to buy.
By leveraging modern digital technology, packaging can bridge the gap between physical product and digital data. Connected packaging (also called smart packaging) uses technologies like Quick Response (QR) codes or Near Field Communication (NFC) tags to enable direct communication with a smart device.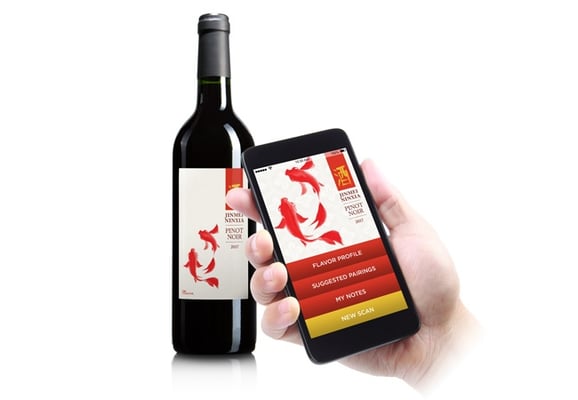 Connected packaging provides a variety of opportunities for brands to meet the needs of their consumers, increase brand security, and drive sales. Savvy brands are exploring innovative opportunities to create a unique packaging experience beyond the limited space of a physical pack, such as track-and-trace, extended content, augmented reality, and more.
Planning Your Time: Managing a Digitally Printed Packaging Project
Businesses should plan for their packaging by considering every step of the process — from ideation to production. When managing a digitally printed packaging project, brands must first determine a realistic production timeline and budget.
To accurately plan a packaging production timeline, successful brands often work backward — considering the expected lead time of the packaging manufacturer. If a brand needs packaging in-hand by a specific date, it's helpful to make a list of all the necessary steps to accomplish leading up to that date. Proper planning helps ensure your timeline is met.
Beginning with the end date in mind, here are some questions to answer to plan an accurate production timeline:
How long will it take for your packaged product to ship from your fulfillment center to the retailer or end-user?
How much time will it take to pack your product for shipping?
Is there any assembly time or kitting required for your packaging?
How much time will it take for your packaging to arrive at your product warehouse or fulfillment center?
How much time will it take your team to create or procure print-ready artwork files for your packaging (if applicable)?
What style, size, material, and print method are best for your specific custom packaging needs base on your product, goals, and budget?
Planning Your Budget: The Cost of Digitally Printed Packaging
Understanding your packaging budget and effectively leveraging that budget can save time and have a significant impact on a company's bottom line. Effectively communicating your budget up-front and defining what success looks like ensures that a packaging provider can produce the best outcome to meet your expectations.
When evaluating quotes for digitally printed packaging, it's crucial to understand how your manufacturer may price this production method differently from analog methods. With analog, the cost of the print plates and tooling, machine setup time, and materials are all front-loaded into the pricing because most of these are fixed costs that cannot be avoided or reduced, regardless of order volume. For this reason, most analog print jobs result in a high minimum volume order requirement imposed by the manufacturer. Assuming your order volume is substantial, the cost to produce the first box off the press will be much higher than to produce the last box due to the added up-front expenses.
By contrast, digital print requires no print plates, which results in reduced machine setup time. As a result, the cost to get started is lower, which makes low-volume orders affordable for brands of all sizes. The price per unit for digitally printed packaging remains consistent throughout the length of the print run. The cost to produce the first box off the press will be the same as to produce as the last box, whether you print two boxes or 200,000.
Does this mean that digital is more expensive? On a per-unit basis, the answer could be yes or no depending on your order volume, material, additional machine finishing passes, and other factors when comparing to analog. However, focusing on the per-unit cost doesn't tell the whole story. Be sure to consider the total cost of a job when comparing digital to analog print, and to account for all of the additional benefits and cost savings that digital can deliver, particularly over the lifetime of your product.
Exploring New Frontiers: The Future of Digital Print Technology is Here
In the highly competitive retail and eCommerce environments, packaging is crucial for a brand's success. By leveraging digital print, brands can stand out against their competitors and create a unique packaging experience that connects with consumers, drives revenue, and strengthens brand loyalty.
But not all digital presses are created equal. Leading packaging manufacturers that want to deliver the best results to their clients are investing in the latest digital technologies that drive innovation, such as the HP PageWide C500 press.
The difference between the C500 and other digital presses on the market is staggering, to say the least. For high-impact graphics on coated and uncoated corrugated stock, the C500 produces top-quality digitally printed packaging that meets the demands of today's consumers at scale. Along with offering food-safe inks, the speed and flexible graphics capabilities of the press allow brands to integrate marketing efforts with packaging to create more relevant campaigns in a shorter timeframe.

As a part of our continual efforts to deliver a competitive edge to our clients, The BoxMaker installed the first C500 on the West Coast in 2018. Along with the C500, our Digital Production Center features an impressive lineup of digital presses and machinery, including:
HP Scitex 15500 and 17000: Two high-volume HDR (High Dynamic Range) wide-format corrugated presses for packaging and point-of-purchase display
HP Indigo 6800: A high-performance narrow web press that combines productivity, quality, and intelligent automation
Digital Cutting and Finishing: Our digital CAD tables deliver an automated die-less finishing system for packaging and point-of-purchase displays
Stay Ahead of The Competition with Digital Print - Request a Quote
The future of corrugated packaging is digital, and now is the time to get on board. The BoxMaker is ready to partner with you to meet all of your digitally printed packaging needs. We have been investing in digital technologies since 2011 and operate the highest capacity Digital Production Center for packaging and display in the Pacific Northwest. Contact us today to get started.